The baseball schedule can be tough to navigate for even a seasoned baseball bettor. We break down all the day's MLB betting angles for you including picks, trends, weather and analysis to help you handicap the big leagues like a pro.

Double-Play Picks

Los Angeles Angels at Houston Astros (-185, 8.5)

The Angels ended their six-game skid Tuesday night in Houston against the Astros, but they face a much tougher task Wednesday night if they are looking to turn yesterday's victory into a winning streak.

Los Angeles must contended with Astros' ace Dallas Keuchel, who is looking like the pitcher he was two years ago when he went 20-8 with a 2.48 ERA, a 1.02 WHIP and 216 strikeouts on his way to his first Cy Young Award.

In three starts this season Keuchel has thrown 21 innings to the tune of a 0.86 ERA and a ridiculous 0.69 WHIP, while striking out 15. The 29-year-old left-hander has also been a problem for the Angels the last two seasons with the Astros winning six of his last seven starts against the Halos, pitching to a 2.44 ERA with 36 strikeouts.

To make things tougher on the Angels they have to start converted reliever JC Ramirez for the second time this season. Ramirez allowed five runs on four hits in his last start.

Pick: Astros -185

Arizona Diamondbacks at San Diego Padres (+110, 7.5)
The Diamondbacks have been one of biggest surprises through the first two-plus weeks of the season, winning 10 of their first 15 games to sit in a tie for first in the National League West.

Arizona can thank their red-hot and balanced offense for their current perch atop the standings. The Diamondbacks rank first in the majors in runs scored per game at 5.2, while rankings fifth in batting average, ninth in OPS and second in stolen bases.

Additionally, they send Zack Greinke to the mound to take on the offensively challenged Padres. San Diego ranks 29th in runs per game and batting average, while sitting 26th in OPS. Grienke is 8-1 with a 2.02 ERA in 16 career starts versus the Padres.

Pick: Diamondbacks -133
Yesterday's Picks: 0-2
Season to Date: 5-5

For more FREE MLB picks and analysis check out our Free Picks page on Covers Experts.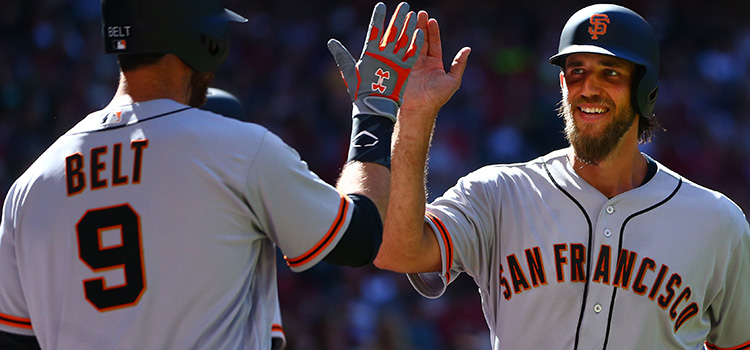 Streaking and Slumping Starting Pitchers

Streaking: Jason Vargas, Kansas City Royals (2-0, 0.66 ERA, $240)

Jason Vargas is a veteran arm that many baseball people forgot about coming into the 2017 season. Before suffering a torn UCL in July 2015, Vargas was a valuable member of the Kansas City Royals' rotation. After making a few "feeler" appearances in September of last season, he is now 100 percent healthy and looking great.

Vargas has only allowed one earned run in a pair of starts this season and will face a tough opponent Wednesday night with Madison Bumgarner and the San Francisco Giants coming to town - but at least MadBum won't be in the lineup (or will he?). The Royals are +120 home underdogs.

Slumping: Rick Porcello, Red Sox (1-1, 7.56 ERA, $77) vs. Francisco Liriano, Blue Jays (0-2, 9.00, -$233)

We have a pair of slumping starters going head-to-head Wednesday night in Toronto with Boston Red Sox' Rick Porcello facing off with Blue Jays' Francisco Liriano. Instead of singling out one of these hurlers, we'll focus on both.

Porcello has made three starts in 2017. The Sox have actually won two of his three outings, but he's the reigning American League Cy Young Award winner so he will be held to a higher standard - even if Kate Upton didn't think he deserved the award. His first two starts of the season were average but his last start at home against the Tampa Bay Rays was a horror show (4.1 innings pitched, 8 earned runs, 4 home runs allowed).

Liriano had a really solid spring in Florida for the Jays and many were expecting him to build on those solid Grapefruit League outings once the regular season began. Well...that clearly didn't happen. Like everything in Toronto over the first three weeks of the regular season, Liriano has been really bad. Positive thoughts: his ERA is inflated based on a horrible 0.1 IP, 5 ER performance in his first start and he's coming off a solid 6.2 IP, 10 K start against the offensively gifted Baltimore Orioles, so he may be headed in the right direction.

Porcello and the Red Sox are -115 faves tonight with the total set at 8.5.

Monday's Top Trends

* The New York Yankees are 6-0 in Mashiro Tanaka's last six starts vs. AL Central. Yankees -210 vs. White Sox
* The Toronto Blue Jays are 2-12 in their last 14 games vs. right-handed starters. -105 vs. Red Sox
* The Baltimore Orioles are 6-0 in their last six games vs. starters with a WHIP under 1.15. Orioles -115 @ Reds
* The Philadelphia Phillies are 1-10 in Vince Velasquez' last 11 starts. +105 @ Mets

Weather to Keep an Eye On

A pair of weather situations to keep an eye on for Wednesday.

Rain is expected all day at Target Field where the Twins are scheduled to host the Cleveland Indians. This one could be washed out.

In Kansas City, where the Royals will host the Giants, the forecast is calling for a mightly 15-20 MPH wind blowing straight out to left field. With a pair of solid lefties on the mound (Bumgarner vs. Vargas) both lineups will be loaded with right-handed bats. Current total: 8

Ump of the Day

Bill Welke: Welke will be calling balls and strikes for this afternoon's game in Oakland between the A's and the Texas Rangers. If recent history means anything that bodes well for the Rangers. Texas has won 13 of their last 16 games with Welke behind the plate and, conversely, the Athletics have dropped their last 5 with the veteran ump wearing the pads. Oakland is currently -115 favorites with a total set at 8.5.
Wednesday's Top Consensus

Here are today's top MLB side and total plays according to our Covers Consensus.