The MLB closes out the first half of the regular season with a full Sunday slate of 15 games, including a red-hot Corey Kluber taking the mound against a division rival at home. Get analysis on all of today's games as well as tips on weather, umpires, and other betting trends with our daily MLB Line Drive. **video

Double-Play Picks

Houston Astros at Toronto Blue Jays (-105, 9.5)

The mighty Houston Astros have dropped two out of the first three games of this four-game series in Toronto heading into the All-Star break. Despite their two losses they still own a stellar 32-11 record on the road in 2017 - by far the best road record in baseball.

Brad Peacock will get the start for the Astros. He is having a great season with a 6-1 record and an overall ERA of 2.91. His ERA is slightly higher at 3.18 on the road in four starts away from Tropicana Field and in three afternoon starts his ERA is 3.98 with a rather alarming 13 walks. Someone isn't exactly an early riser.

J.A. Happ climbs the bump for the Blue Jays at home today and he has struggled at Rogers Centre with a 4.15 ERA in his five starts "North of the Border" this season. Happ has been pitching really well lately for the Jays, but his best results have been coming on the road against mediocre teams. Today is at home against a very good team.

The Astros LOVE to hit in games started by Peacock, averaging an astonishing 10.75 runs per game in his road starts this season and the average combined total runs for both teams in those games is 14.50.

Houston has yet to play an Under since the calendar turned to July and Over is 7-0-1 in their last eight games overall. The Jays have been a little bit more inconsistent when it comes to cashing Overs, but the Over is 3-0-1 in their last four overall and 3-0-1 in their last four games against the 'Stros. It looks like Troy Tulowitzki and Josh Donaldson are heating up for Toronto (just in time to cool off during the break) and when those two are rolling the Jays still have one of the most dangerous batting lineups in all of baseball.

Pick: Over 9.5

Detroit Tigers at Cleveland Indians (-210, 8)

The Cleveland Indians send their ace, Corey Kluber, to the mound Sunday night in an attempt to close out the first half of the season with a very uplifting sweep over a division rival. The Tribe has dominated the Detroit Tigers all weekend, and for most of the season for that matter, winning the first two games of this weekend series by an average of 6.5 runs per game.

Kluber has been dynamic for most 2017, but especially over his last four starts. In his last four trips to the hill his ERA is a minuscule 0.56 and his WHIP is perhaps more impressive at 0.5625. He's only allowed one home run since the beginning of June (seven starts) so he appears to have everything figured out at the moment. He has also struck out 10 or more opposing hitters in five straight appearances.

Dating back to the beginning of the 2016 season, the Indians have won five of Kluber's six starts against the Tigers with an average margin of victory of 6.0 in those five wins.

The Tigers will run their young stud Michael Fulmer out to the hill to close out the first half. Much like the Tigers' season overall, Fulmer has been inconsistent in 2017. Don't get us wrong, any team in baseball would love to have him as a part of their rotation, but life as a Detroit Tiger can sometimes be rough as a starting pitcher. Despite a solid 2.16 ERA on the road this season, the Tigers have only won three of his seven starts away from Comerica Park.

In four career starts against the Indians, Fulmer owns a team win/loss of 2-2 (1-2 on the road), an ERA of 6.98, and a WHIP of 1.9655. Not great numbers and they speak to Fulmer having not quite put everything together.

When digging through past results we uncovered a very interesting statistical fact. Since May 23 the Cleveland Indians have won 23 baseball games (23-19) and during that span each and every one of their wins has covered -1.5. They have not posted a one-run victory since an 8-7 win in Cincinnati against the Reds on May 23. When they win, they win convincingly.

Pick: Indians -1.5 (+100)

Yesterday's Picks: 0-2
Season To Date: 85-75-8

For more FREE picks and analysis head over to our Free Picks page on Covers Experts.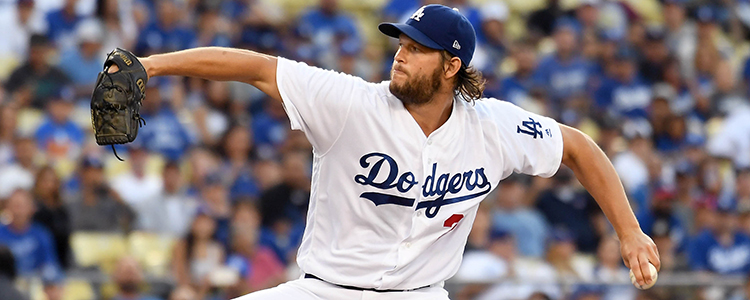 Streaking and Slumping Starting Pitchers

Streaking: Clayton Kershaw, Los Angeles Dodgers (13-2, 2.19 ERA, $1160)

Dodgers' Clayton Kershaw is pretty good. He owns a team win/loss record of 16-2 this season and he leads all major league starters in Starter Money at $1160.

Has his recent form been good? Of course. Over his last three outings he owns an ERA of 0.00 with a WHIP of 0.70 and the Dodgers have won his last 12 starts overall.

Kershaw and the Dodgers are big chalk at home today, as usual, against the visiting Kansas City Royals at -300.

Slumping: Kyle Freeland, Colorado Rockies (8-7, 4.09, $361)

Rockies' rookie left-hander Kyle Freeland got off to a tremendous start to his major league career but he has really cooled off as the weather has warmed up. In Freeland's last three starts he is 0-3 with a 7.27 ERA and a 1.79 WHIP. He simply is not missing bats with only six strikeouts to go along with six walks during those last 17.1 innings of work.

Freeland and the Rox are -120 favorites at home today against the Chicago White Sox. The moneyline opened at -150 and has been dropping all day.

Sunday's Top Trends:

* Over is 12-2 in the Tampa Bay Rays' last 14 home games. Red Sox/Rays Total: 7.5.
* The Atlanta Braves are 5-21 in the last 26 meetings with the Nationals in Washington. +160 today @ Nats.
* The Los Angeles Dodgers are 44-9 in Clayton Kershaw's last 53 starts. -300 today vs. Royals.
* The Cincinnati Reds are 4-17 in their last 21 vs. National League West. +150 today @ Diamondbacks.

Weather To Keep An Eye On:

Not too much precipitation to worry about in the weather forecast today. There are slight chances of thunderstorms developing in Minneapolis for this afternoon's game between the Twins and the Baltimore Orioles and also in Arlington where the Rangers will host the Los Angeles Angels.

At Wrigley Field in Chicago there will be an 8-10 mile per hour wind blowing straight out to center field this afternoon. The Cubs are taking on the Pirates and the total is set at 9.

Ump Of The Day:

Tom Hallion will be calling balls and strikes today in San Francisco for this afternoon's game between the Giants and the visiting Miami Marlins. Hallion is the No. 5 Over umpire in Major League Baseball thus far in 2017 at 12-5.

He owns a very low strike percentage of 62.78. Combine that with the juiced balls and that fully explains his current Over trend.

The total today in San Francisco is currently set at 9.

Sunday's Top Consensus: