The baseball schedule can be tough to navigate for even a seasoned baseball bettor. We break down all the betting angles for you including picks, trends, weather and analysis to help you handicap the MLB like a pro.

Double-Play Picks

Chicago White Sox at New York Yankees (-190, 7.5)

The Chicago White Sox are not exactly an offensive juggernaught. Coming in to tonight's game they rank No. 21 in baseball with a .231 batting average and they have only popped 11 home runs this season. However, a road game at Yankee Stadium can change everything.

The total for this game has actually dropped from the opening number of 8.5 down to the current number of 7.5. This move is because of the wind direction, which will be blowing in from right field tonight, but a wind strength of only 5-10 miles per hour shouldn't really be a major factor.

The White Sox are throwing a mediocre starter at the Yankees tonight (Miguel Gonzalez - 1-0, 4.22 ERA) and their young, live bats should eat him alive.

Like any time betting an Over involving the Yankees, their dominant late inning relievers cause a little bit of anxiety...but hopefully this game will hit eight runs long before the late innings.
Pick: Over 7.5

Texas Rangers at Oakland Athletics (+115, 7)

It's time for the Andrew Triggs string of successful starts to run out. His weird delivery and very good sinker have produced a pair of wins and an ERA of 0.00 thus far in 2017. But let's be honest, he is not Clayton Kershaw and he is putting up Kershaw-like numbers.

Today, Triggs and the A's host Yu Darvish and the Texas Rangers. Darvish has only allowed one earned run in his last two outings and is coming off a stellar seven shutout innings with 10 strikeouts in his last start in Los Angeles against the Angels.

Don't expect Triggs to fully blow up and give up 10 runs, but Darvish should dominate the A's and come out with a win somewhere in the 3-1 or 4-1 range. Getting Darvish at -130 is too good to pass up.

Pick: Texas -130

Record to date: 5-3

For more FREE MLB picks and analysis check out our Free Picks page on Covers Experts.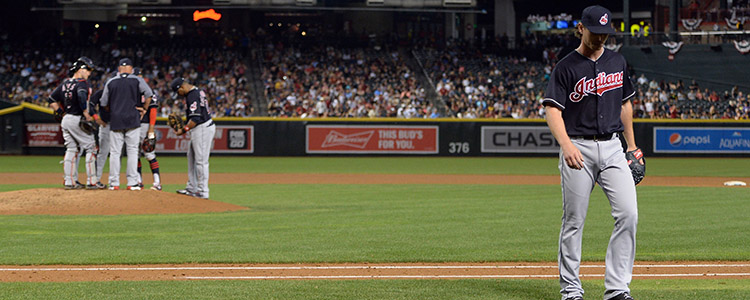 Streaking and Slumping Starting Pitchers

Streaking: Mike Leake, St. Louis Cardinals (1-1, 0.60 ERA, $4)

It has been a tough start to the season for the Cardinals, but you can't put any of the blame on the shoulders of Mike Leake.

Leake has come out of the gates firing. In his first two starts he has pitched 15 innings to the tune of a 0.60 ERA with 13 strikeouts and just one walk. Additionally, batters are hitting just .208 against him this season and he faces a Pirates club that is hitting just .228 as a team.

Slumping: Josh Tomlin, Cleveland Indians (0-2, 18.47 ERA, $-344)

It has been nothing short of a disastrous start to the season for Tomlin, who has managed to pitch just 6.1 innings in his first two starts.

He allowed six runs on seven hits in 4.2 innings in his first start of the season at Arizona and followed that up with by allowing seven runs on eight hits in just 1.2 innings against the White Sox. Plus, batters are hitting a ridiculous .500 off Tomlin this year. He visits the Twins Monday.

Monday's Top Trends

* The New York Yankees are 8-0 in their last eight overall. Yankees -183 vs. White Sox
* The Under is 9-0 in Marcus Stroman's last nine starts overall. O/U 8.5 vs. Red Sox
* The Detroit Tigers are 6-0 in the last six meetings against the Tampa Bay Rays. Tigers +105
* The Under is 9-1 in the Minnesota Twins' last 10 games overall. O/U 9 vs. Indians

Weather to Keep an Eye On

It should be windy and a bit chilly tonight in Minnesota, when the Twins host the Cleveland Indians. Temperatures will be in the low 50's for the game with a moderate 14-16 mile per hour hitters wind gusting out over the right field fence. Skies will be overcast but there is a minimal chance of precipitation. The total for the game is currently 9.

Ump of the Day

D.J. Reyburn: Reyburn will be calling balls and strikes for tonight's game in Houston between the Angels and Astros and if recent history means anything that bodes well for the 'Stros. The home team is 10-3 in the last 13 games (76.9 percent) Reyburn has officiated and 30-22 (57.7 percent) since the start of 2015. Reyburn also has a very low strike rate so far this season at just 60.3 percent. Houston is currently a -163 home favorite with a total of 8.5.

Covers Consensus

Here is the top MLB side and total play according to our Covers Consensus: