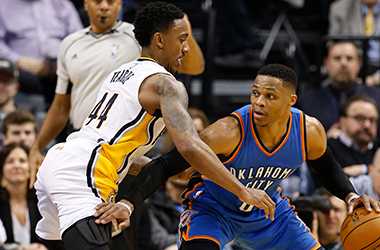 With each week that passes, a growing number of daily fantasy players lean on the Vegas odds to determine which games to target when building their roster. It's a savvy move; oddsmakers know the league as well as anyone, and are generally good at identifying areas where DFS participants can seek out players with the most advantageous matchups.

But just how helpful have oddsmakers been so far? Here's a breakdown of the numbers through Feb. 7:

Home Team Win Rate: 58.39%
Road Team Win Rate: 41.61%

This isn't so much a Vegas exclusive, but it's still good to know that home teams are converting just under three-fifths of the time. You generally want to feature players on winning teams, at least when deciding between two players with similar skill sets and usage rates. Of note: Home teams have prevailed in greater than 61 percent of games dating back over the past 60 days.

Favorite Win Rate: 67.73%
Underdog Win Rate: 32.27%

It should come as no surprise that Vegas faves are winning more than two-thirds of the time. That number is considerably higher than it is for NHL favorites, meaning that it's much easier to identify players on winning teams in the NBA. This, in turn, makes building a roster consisting of winning players far simpler. These rates have held steady for most of the season.

Away Favorite Win Rate: 63.37%
Home Underdog Win Rate: 36.63%

Trusting players on the road can be difficult - but teams favored away from home are generally reliable, certainly at a much greater rate than their NHL counterparts (54.46%). Great players and teams are great no matter where they play, so you generally shouldn't let yourself get scared off when one of your daily fantasy targets is playing a road game.

Home Favorite Win Rate: 70.08%
Away Underdog Win Rate: 29.92%

This one is academic. Home faves are an overwhelmingly successful group of teams, as they should be. That said, you need to be wary of one-sided games - and home faves produce the largest percentage of these contests - since they often result in star players seeing fewer minutes and, by extension, fewer fantasy points. These games do, however, make bench players more valuable.

Over Rate, Non-Overtime: 49.93%
Under Rate, Non-Overtime: 50.07%

When it comes to hitting the total - at least in regulation - Vegas is as close to perfect as possible. What does this mean in daily fantasy? Basically, you need to take every total at face value when building your lineups. Sure, you might see some totals as being too high or too low - and you very well might be right. But there is almost exactly a 50-50 chance of any game going over - or under.

Over Rate, Overtime: 87.23%
Under Rate, Overtime: 12.77%

If you can build a roster full of players who wind up playing in overtime, you're going to be incredibly happy with the end result. Of course, it's exceedingly hard to identify games that make it to a fifth quarter, but your best bet is to target games with low point spreads. It's the ultimate risk-reward proposition, but if it pays off, it really pays off.