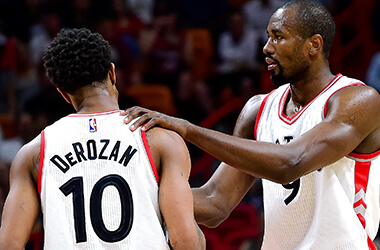 Much of the focus in NBA daily fantasy is on players you need to roster on a given night; whether you're participating in cash-game contests or going for the big tournament prize, there is no shortage of advice on which big-name players you should roster, and which low-cost options will provide the most value.

And yet, it's equally important to know which players are primed to return the least amount of value. These players not only limit your upside in tournaments; one bad performance can completely submarine your cash-game efforts, as well. Here are some player types to avoid when building your daily fantasy NBA lineups:

The Inexplicably Hot Player

This kind of player is the easiest to avoid. The majority of NBA players get hot at one time or another - and almost always, that stretch leads to an inflated daily fantasy salary. If you get in on these players early enough, you can capitalize on a handful of games in which the player's performance easily exceeds his salary. But there always comes a point at which the player can't possibly be expected to return value on his now-bloated cost.

Look for instances in which a player puts together an extended run of better-than-expected showings, and notehow high his salary has climbed. If you don't think that player can produce a point total equal to six times his salary (54 points minimum on a $9,000 salary, for example), then fade him. Not only do these players need to record even more FanDuel points to be strong value plays, there's a great chance that run of great offensive basketball will come to an end sooner rather than later.

The One-Category Star

Success in daily fantasy is all about finding players who are capable of contributing in as many scoring categories as possible. You don't necessarily need Draymond Green to score 15 points if you know he can potentially give you double-digit rebounds, 6-8 assists and a handful of steals and blocks. Conversely, if you roster a player like Isaiah Thomas, you're putting all of your eggs in his scoring basket - and if he can't score 30+ points, the chances of him returning value is low.

Stay away from players who don't do much in secondary categories. You might like DeMar DeRozan's price and matchup, but because he doesn't excel in rebounding or passing, and he doesn't block shots, you need him to score a ton of points in order to be a strong fantasy play. So much can go wrong here - perhaps the player finds himself in foul trouble, or maybe the shot just isn't falling. Stick with players who can contribute even if there's a lid on the rim.

The Injury Risk

Injured players drive daily fantasy players insane. There are few things more frustrating than building what you believe is the perfect tournament roster, only to have one of your roster lynch pins left out of the lineup with no time to make an adjustment. Players who carry injury risk can make for intriguing plays - particularly in tournaments - but if you wind up with a roster hole, you'll have a much harder time making headway in cash games - and you can kiss that large-field tournament payday goodbye.

You don't necessarily need to avoid injury risks altogether, but you should limit the number of risky plays you make in games that start an hour or more after roster lock. With earlier games, you at least have the option of subbing players out prior to tip-off. If you're feeling particularly frisky, you can build a contrarian lineup with one or more injured players and hope for the best - but in cash games, you're much better off going with safe, healthy players and leaving the questionable plays to others.