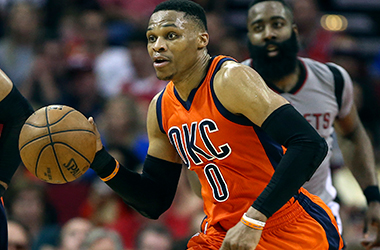 We all know who are the best players in the NBA, but these superstars come at a premium price in daily fantasy. Monty Andrews is here to help you find the best bang for your buck when shopping for high-priced talent.

Here are the top high-salary daily fantasy options for this week in the NBA:

Tuesday - SG James Harden, Rockets (vs. Warriors)

It's rarely a bad idea to consider rostering Harden, but Tuesday's game against visiting Golden State holds special significance as the Rockets look to legitimize their sensational Cinderella season. Harden has asserted himself well in two meetings with the Warriors this season, averaging 23 points, 12 assists and 10.5 rebounds - and another triple-double would go a long way in helping the MVP candidate return value on his astronomical salary. Harden should be safe to roster in all formats.

Wednesday - C DeMarcus Cousins, Pelicans (vs. Mavericks)

Deciding which New Orleans big man to roster on a given night usually depends on which player has the better matchup - and in Wednesday's contest against Dallas, you should look to Cousins over Anthony Davis. While Davis will likely be paired against Dallas defensive stalwart Nerlens Noel, Cousins will probably start against aging power forward Dirk Nowitzki, who has lost a step on defense and will be hard-pressed to keep up with his Pelicans counterpart. Roster Cousins everywhere.

Thursday - C Karl-Anthony Towns, Timberwolves (vs. Lakers)

Towns has been sensational against the majority of teams he has faced, and the Lakers are no exception; the 21-year-old is averaging 23.5 points, 12.5 rebounds and three assists in a pair of meetings with Los Angeles, playing 39 and 43 minutes in those contests. The Lakers have nobody who can match up defensively with Towns, who posted a 25-13-4 line against them in their previous encounter last Friday. Towns is especially valuable in cash games thanks to his huge floor.

**video

Friday - C Hassan Whiteside, Heat (vs. Knicks)

The Knicks have been victimized by opposing centers for the majority of the season, having allowed an average of 50.8 fantasy points per game to the position. That bodes poorly for the visitors on Friday night, as Whiteside carries tremendous upside by virtue of his multi-category contributions. Whiteside is averaging 23 points, 14 rebounds and three blocked shots in a pair of meetings with New York in 2016-17, and is well-positioned to increase those averages on Friday.

Saturday - C Nikola Vucevic, Magic (at Nets)

It has been one of those seasons for Brooklyn, which ranks among the league's worst when it comes to allowing fantasy points to all five positions. That includes up the middle, where the Nets are one of only five teams surrendering at least 50 fantasy points per night. Vucevic lacks the consistency and upside of the league's top centers, but is a matchup nightmare for Brooklyn and should at least return cash-game value on his reasonable salary.

Sunday - PG Russell Westbrook, Thunder (vs. Hornets)

You can't go wrong with the NBA's resident triple-double factory - and Sunday afternoon's game looks particularly juicy despite the Hornets playing excellent defense against opposing point guards over the previous 10 games entering the week. Westbrook racked up 33 points, 15 rebounds and eight assists in the first meeting between the teams in Charlotte, and DFS players should expect something similar as Westbrook looks to cinch his triple-double average for the season.