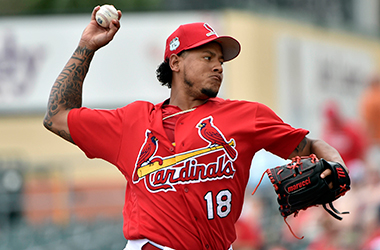 We all know by now that rostering an elite starting pitcher is a must when it comes to daily fantasy. So here at Covers we break down your best options for each day of the upcoming week in MLB.

**video

Here are the top daily fantasy starting pitchers of the week:

Tuesday - RHP Justin Verlander, Tigers (at White Sox)

These two teams were scheduled to kick off their seasons Monday, but were rained out. Verlander and Chicago counterpart Jose Quintana were both pushed back, making Verlander the top option on a day full of decent plays. The hard-throwing right-hander is back to being a strikeout threat, recording 254 whiffs a season ago; his control has also improved over recent years, making him one of the most complete pitchers in the AL. Use him comfortably in all formats against a weak White Sox lineup.

Wednesday - LHP Chris Sale, Red Sox (vs. Pirates)

The Red Sox show off their shiny new acquisition Wednesday as Sale takes the hill in what looks like a significant mismatch against Pirates counterpart Jameson Taillon. Sale wasn't his usual strikeout-amassing self last season, opting instead to pitch more to contact in order to extend his outings. But make no mistake: the lanky southpaw can still baffle batters with the best of them, averaging better than a strikeout an inning last season. He's usable in all game types, though his price tag will be steep.

Thursday - RHP Marcus Stroman, Blue Jays (at Rays)

By the end of the first spin through a team's rotation, the options become quite slim. Fortunately for daily fantasy players, there are still a few back-end options to choose from - and Stroman is chief among them as he looks to build off the momentum of a solid showing at the World Baseball Classic. Stroman won't rack up the strikeouts, but he keeps the ball on the ground and is backed by a terrific Toronto defense. He lacks the upside of tournament play, but will be a a terrific cash-game play Thursday.

Friday - LHP Madison Bumgarner, Giants (at Padres)

This one is as close to a slam dunk as you'll find when it comes to picking a daily fantasy pitcher. Bumgarner went wild in his first start of the season, piling up 11 strikeouts while belting a pair of long home runs against the Diamondbacks. While those long balls don't count in DFS, the Ks sure do - and after seeing what Clayton Kershaw did against the punchless Padres in the season opener, it's clear that Bumgarner is in great position to be the highest-scoring player of the day.

Saturday - RHP Yu Darvish, Rangers (vs. Athletics)

Darvish is one of the most enigmatic pitchers in the game, capable of reaching double-digit strikeouts without much effort but prone to bouts of poor control and difficulty keeping the ball in the park. Darvish was far from perfect in his season-opening start against Cleveland, but should fare much better this time around against an Oakland lineup that pales in comparison to the Indians. He's more of a tournament play given his inconsistency, but he'll be one of the top GPP options available.

Sunday - RHP Carlos Martinez, Cardinals (vs. Reds)

You'll probably find yourself paying a little more for Martinez this weekend after the Cardinals ace threw seven shutout innings with 10 strikeouts against the World Series-champion Chicago Cubs in the opener. But he's well worth it, particularly against a Reds lineup that has Joey Votto and not much else. Martinez will get a little extra rest after tossing 105 pitches in his first start; he won't need as many to make a major impact against Cincinnati. Fire him up everywhere.